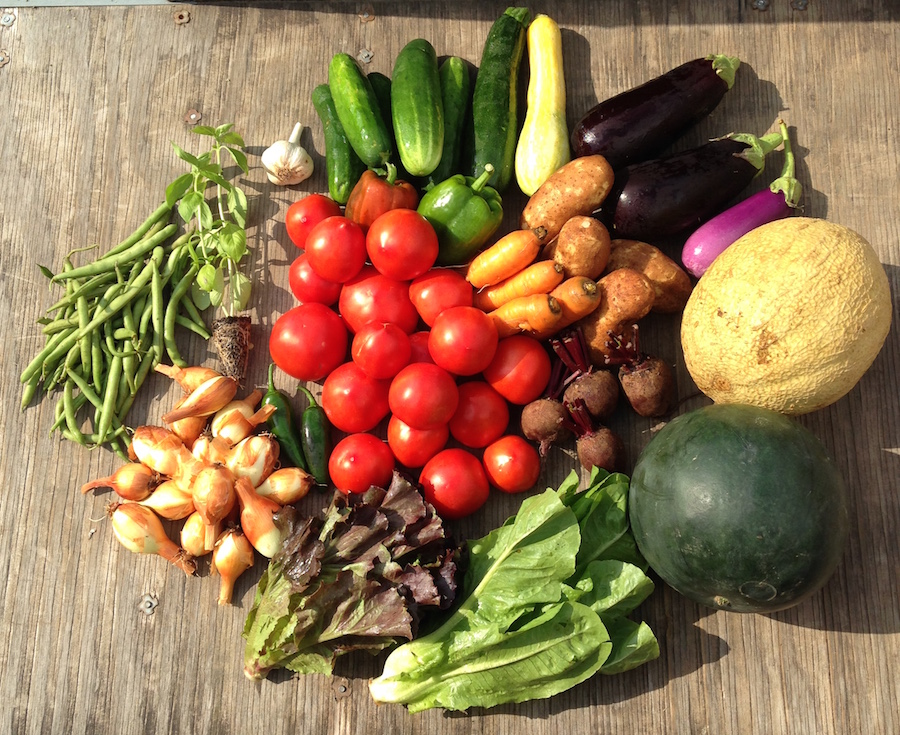 2019 marked Tinicum CSA's 7th season, and it was another successful year for your farm. Unpredictable weather remained a challenge, but we were fortunate to have less rain than last year. Still, Climate Change remained a daily conversation topic on the farm. Cooler than usual temperatures in early August slowed down the summer crops of tomatoes & eggplant. It was remarkable to see August tomato plants look like September tomato plants. And we experienced a Fall drought, which had us running the irrigation system more than we wanted. In spite of all of this, we still had great yields and the shares were quite bountiful.
One of the highlights of the year for me was getting to work with great people. Phoenix, Isabelle, Nicole and I had a great time growing and harvesting all of the tasty veggies. Working in the fields together provided us with ample time to develop farm camaraderie, which helped us to meet the challenges of the work with humor and fun. Whimsical conversations about astrology led us to develop (a somewhat arbitrary) vegetable zodiac. The farm really couldn't happen without this collaborative spirit, and I am grateful for the time spent with these talented farmers.
---
We took this farm crew enthusiasm to the Bucks County Fair. Out of 28 entries, we placed in 21, and we won 10 blue ribbons! It was fun to spend an evening as a farm crew family down at the Fair to check out our winnings. We were especially proud to win in the categories of Largest Potato, Garlic, and Carrots.
---
2019 Highlights:
In addition to our historic Grange Fair winnings, 2019 was our most productive year on record.
1. We grew a grand total of 53,036 lbs. of produce, surpassing 2018's total yield by 1,190 lbs.
2. We received 14 Donated Shares, which continues to demonstrate the generous spirit of our community. This helps Tinicum CSA to be a part of the local effort to reduce food insecurity by providing healthy produce to local families in need for an entire season. Thank you!
3. Spinach production reached an all time high of 1,040 lbs. This is why we had such wonderfully abundant spinach in the fall shares. The fall harvest alone accounted for 665 lbs, which is more than the total spinach harvested in 4 prior seasons.
Like last year, it was fun to report on which crops we grew more than a ton of. We had 9 crops in 2018. In 2019 we had 10 crops!
Crops we grew more than a ton (2,000 lbs) of:
-Lettuce
-Tomatoes
-Sweet Potatoes
-Melons
-Summer Squash
-Cucumbers
-Cabbage
-Winter Squash
-Carrots
-Potatoes
Other Highlights:
The new Pick-Your-Own arrangement in the field worked out well! As farmers, we enjoyed the elegant look of the cherry tomatoes, hot peppers, okra, and sunflowers located directly behind the flower patch. And the members seemed to enjoy the experience of picking from a more consolidated area.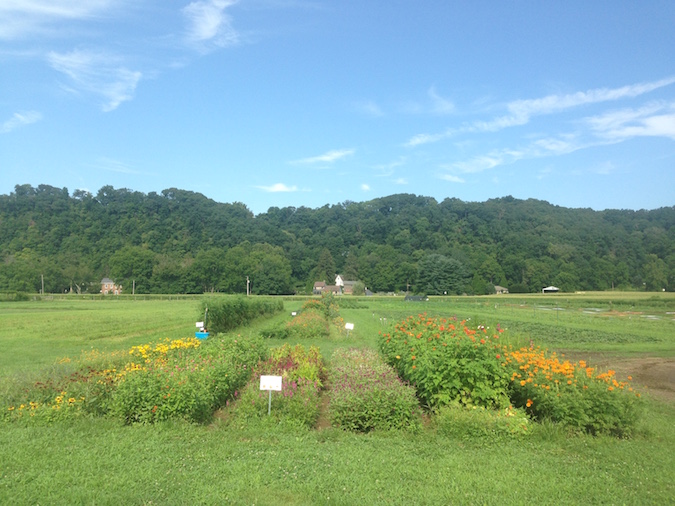 The raspberry offerings lasted many weeks! We had a strong start in the spring from late June to mid July. And they reappeared for a long run in the fall from late August until early October. It's so nice to see people enjoying this sweet treat at CSA pick-ups.
In addition to working with great people to make Tinicum CSA happen, I'm also grateful for the opportunity to work alongside the Schneiderwind Farm. The special synergy between my business and Craig's helps to bring more people to this beautiful spot by the Delaware River in Upper Black Eddy. Most seasons, Craig and I will work together at times to remedy a farm equipment issue or lend each other a hand during a project. For the most part, we allow one another to focus on our own work, which makes it much easier to succeed in carrying out our respective farming endeavors. This all results in a more meaningful stewardship of the land and a welcoming atmosphere for folks visiting the farm.
When I think back on 2019, I am mindful of the privilege of working with great people and how it makes such a difference in the daily farm work. While farming always involves unpredictable weather, it is easier to adapt to the changing conditions with an enthusiastic, caring farm crew. I'm excited that Phoenix & Isabelle are returning for the 2020 season.
As a CSA farmer I am grateful for the fulfilling opportunity to host CSA members throughout the distribution season. I love seeing people get excited about a particular vegetable, and I love seeing how much people enjoy coming to the farm to experience the CSA Pick-Up. It's also nice to see how the farm provides a wholesome environment for children to learn about where their food is grown. For me, it is particularly rewarding to grow food for my niece & nephews. While it is so satisfying to grow fantastic produce, it is even more rewarding to share the harvest with such a supportive community. I wish everyone a restful winter and I look forward to seeing you in 2020.