Our Promise
Although Tinicum CSA is not certified organic, all our produce is grown in accord with organic principles and methods. We do not use any synthetic pesticides, herbicides, fungicides or fertilizers. Everything we grow is GMO-free.
If you have any questions about our practices, you are welcome to stop by, ask questions, and see our fields for yourself! We believe that this direct, person-to-person trust and transparency is more meaningful and sustainable than paying a third-party certification corporation to vouch for our growing practices.
Season
The pick-up season is 24 weeks long. The first pick-up for 2023 will be Saturday, May 20th and the last pick-up will be Tuesday, October 31st. Following the final regular pickup, we offer a Thanksgiving Bonus Pick-Up for members who renew their membership for the next season. For more information about Pick-Up times, please refer to our Picking Up Your Shares page.
Sliding Scale
We use a sliding price scale in an effort to help the farm cover its costs while still making membership available to the widest variety of people. Those who can afford to pay near the upper end of the scale will help the farm invest in appropriate equipment and infrastructure, while keeping membership affordable to those with greater financial constraints. In this way, members commit not only to supporting the farm, but also to supporting each other.
Share Options
Tinicum CSA grows a wide variety of vegetables, fruits, and herbs — over forty crops, from carrots and tomatoes to watermelons and lettuce.
The size and composition of our shares will shift with the seasons.
Spring shares kick off with cool-weather crops like spinach, radishes, lettuce, salad greens, and scallions. As the weather warms, we move into late spring with broccoli, cabbage, carrots, and cauliflower. At the height of summer's glory, we indulge in juicy watermelons, cantaloupe, tomatoes, cucumbers, green beans, and peppers. Autumn's bounty brings us butternut squash, potatoes, beets, garlic, and sweet potatoes — as well as the reappearance of many cool-weather spring vegetables.
Along the way, we offer a cut-your-own flower patch, a perennial herb patch, and the chance to pick your own cherry tomatoes & raspberries.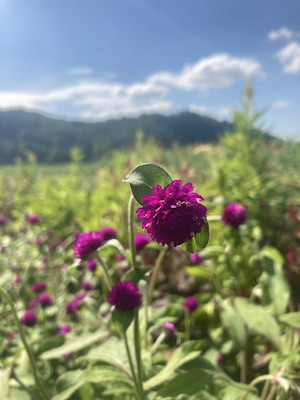 "You truly are the best – I still cannot get over how clean all the produce is and how well organized you are. I cannot imagine life without a CSA in it!" — Maria, Perkasie, PA
Sample Shares
Check out the following examples of both Big & Little Shares from the 2020 season:
Big Share from June 30th, 2020
2 lbs. Carrots & Beets
1 Cabbage
1 lb. Kale & Chard
3 Cucumbers
1 Kohlrabi
2 Heads of Lettuce
1 Bunch of Scallions
2 Summer Squash
1 Plug of Basil
1 Bunch of Cilantro
1 Bunch of Dill
Plus: 1/2 pint cherry tomatoes, 10 flower stems, 1/2 pint okra, perennial herbs, & 1/2 pint raspberries
Little Share from June 30th, 2020
1 lb. Carrots & Beets
1 Cabbage
1/2 lb. Kale & Chard
1 Cucumber
1 Head of Lettuce
1 Bunch of Scallions
1 Summer Squash
1 Bunch of Cilantro
Plus: 1/2 pint cherry tomatoes, 5 flower stems, 1/2 pint okra, perennial herbs, & 1/2 pint raspberries
---
Big Share from August 8th, 2020
3/4 lb. Green Beans
3 lbs. Carrots & Potatoes
2 Cucumbers
3 Eggplant
1 Garlic Bulb
2 Heads of Lettuce
1 Melon
2 Onions
4 Jalapeños
2 Bell Peppers
2 Summer Squash
4 lbs. Tomatoes
1 Bunch of Cilantro
1 Bunch of Dill
Plus: Pick-your-own Cherry Tomatoes, Okra, and 30 stems of Flowers
Little Share from August 8th, 2020
1/2 lb. Green Beans
1 1/2 lb. Carrots & Potatoes
1 Cucumber
1 Eggplant
1 Garlic Bulb
1 Head of Lettuce
1 Melon
1 Onions
2 Jalapeños
1 Bell Pepper
1 Summer Squash
2 lbs. Tomatoes
1 Bunch of Cilantro
Plus: Pick-your-own Cherry Tomatoes, Okra, and 15 stems of Flowers
---
Big Share from September 29th, 2020
2 Broccoli Crowns
2 Cabbages
1 Chinese Cabbage
2 lbs. Carrots & Potatoes
1 Fennel
2 Heads of Lettuce
1 Garlic Bulb
3/4 lb. Kale
2 Jalapeños
3 Bell Peppers
2 Winter Squash
1 lb. Premium Greens & Arugula
Plus: Pick-your-own Cherry Tomatoes, Okra, Hot Peppers, Perennial Herbs, 1/2 pint Raspberries & 20 stems of Flowers
Little Share from September 29, 2020
1 Broccoli Crown
1 Cabbage
1 Bok Choy
1 1/2 lb. Carrots & Potatoes
1 Head of Lettuce
1 Garlic Bulb
1/2 lb. Kale
1 Jalapeño
2 Bell Peppers
1 Winter Squash
1/2 lb. Premium Greens & Arugula
Plus: Pick-your-own Cherry Tomatoes, Okra, Hot Peppers, Perennial Herbs, 1/2 pint Raspberries, & 10 stems of Flowers