Over the years I've collected some great flower photos from the farm. While the Pick-Your-Own offerings include cherry tomatoes, raspberries, okra, herbs, and thai peppers, it's the flowers that really shine.
In the midst of a busy season, I sometimes have to remind myself of how magical the space can be and take a stroll through the flower beds, notice the happy pollinators, and collection of stunning shapes & colors.
If you look closely at the photos below, you'll see a few flowers that aren't from the flower patch, including: a cluster of potato flowers, crimson clover, and buckwheat flowers. There's also a photo of Althaea Officinalis and Althea Crooke.
Flower season may seem far off, but I thought that Valentine's Day would be an appropriate occasion to share these snapshots with all of you. Enjoy!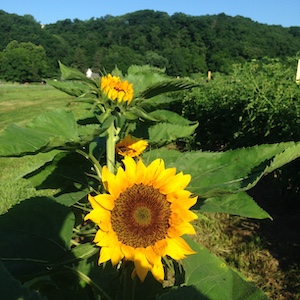 Thanks to everyone who has already signed up for the 2023 Season.