One of the great things about joining a small local farm is getting to know the people growing your food. This personal connection to where your food is grown helps to knit together the community. Furthermore, by joining the CSA, you are getting fantastic produce and supporting the agricultural education of these people. As your farmer, I am privileged to work with new, budding farmers eager to learn all aspects of vegetable production and farm management. Through the season we get to know one another while sharing the responsibility of growing tasty food for y'all. 

So far we've been diligently seeding thousands of veggies in the greenhouse and we've planted about an acre and a half of veggies in the field. Right now the greenhouse tables are covered in trays of lettuce, bell peppers, tomatoes, eggplant, watermelon, cantaloupe, summer squash, cucumbers, okra, parsley, flowers and sunflowers. And the field is planted with onions, kale, spinach, cabbage, napa cabbage, lettuce, chard, turnips, beets, carrots, broccoli, bok choy, greens, scallions, garlic, radishes, and potatoes. The task of getting from seed to seedling and transplanting to harvest requires carrying out specific standard operating procedures on the farm. So far, Eann & Joe have been quick to learn and follow through on all of the important spring farm work. We may be in the early part of the season, but time seems to be moving fast for us as we fill up the fields with healthy produce. In a few short weeks we'll be harvesting for the first CSA Pick-Ups! Read on to learn about the 2021 Farm Apprentices & Crew.

Eann Basco, Farm Apprentice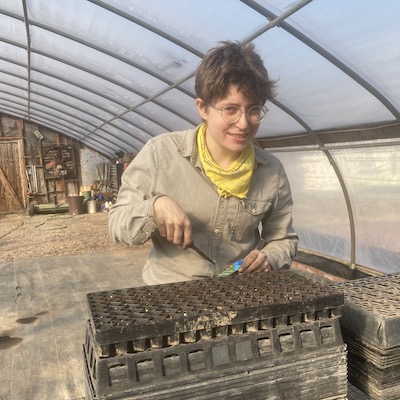 The road that got Eann to Tinicum CSA is long and winding. Eann grew up in upstate New York and spent much of their childhood gardening with their grandmother, who grew up on a small farm. Eann's experience growing up in a rural, agricultural region taught them the importance of bonds based on trust and solidarity with other community members. As an adult, Eann has spent the last decade in New York City. Their career is varied and reflects a deep investment in equity, harm reduction, and food access. Their belief that the local can impact the global, coupled with a deep, heartfelt connection to nature led them to farming. Eann is excited to work hard, dig deep, and learn about all of the aspects of sustainable farming at Tinicum CSA as a 2021 Farm Apprentice. When Eann is not working at Tinicum CSA, they can be found hiking around the region, reading about herbalism, and baking ambitious desserts. If they were a vegetable, they would be a beet.

Joe Fernandez, Farm Apprentice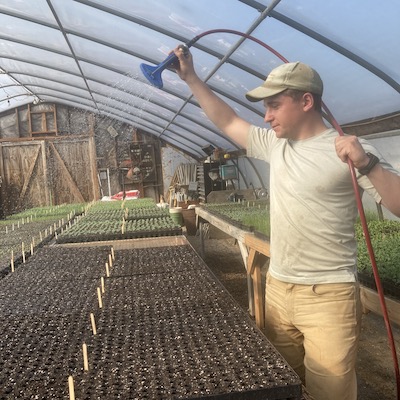 Joe spent three years working in community asset development in northern Laos. There he was exposed to subsistence living and communities that had a rich connection with one another, their food, and their land. Joe saw sustainable farming as a way to develop these connections for himself. Over the last few years, he has worked on farms around the world connecting with people, the planet, and what is on his plate. Farming has brought Joe great joy and fulfillment and his dream is to have his own farm in the coming years. He is excited to be back in the Northeast US, where he is from, and to be working hard, eating good, and learning as much as he can this year at Tinicum CSA!
Rebecca Fisher, Farm Crew
Rebecca has called the Philadelphia area home her whole life and is passionate about the region. She has spent the last three years in Philadelphia working as a tour guide and digging into the cultural heritage of the city. She has been passionate about food justice and access her whole life and looks forward to putting that value into practice this summer through Tinicum CSA. When she's not at Tinicum she is with her 90 pound puppy, Gertie.
Rori Imhof, Farm Crew
This is Rori's second season working at Tinicum CSA. She was born and raised in Northampton County, Pennsylvania. Her favorite thing about working at the farm is the early morning mist coming off the river. Rori is still undecided about where her life is going to take her, but she knows that it will include an appreciation for the natural world and a focus on sustainability. In her free time, you might find Rori snowboarding, hiking, road biking, or making art.

Reminder
If you haven't registered yet, there's still time to sign up and reserve your spot for the 2021 Season. You can sign up online or if you'd like to pay by check, you can download the Membership Form.