Here's a recipe submission from our talented web-designer, Kate P. I like this recipe because it's quick and low-stress … but also hearty and satisfying. Perhaps most appropriate as a winter recipe, but I think it could work in any season.
Ingredients
1 medium onion, diced
1 clove garlic, minced
2 to 3 sausages (approximately 1 lb), chopped into small pieces
1/2 tsp dried thyme
3/4 C vegetable or chicken broth
15 oz canned beans (The original recipe calls for Great Northern beans; I used kidney beans.)
15 oz diced tomatoes, fresh or canned
2 Tbsp tomato paste
1/2 C dried breadcrumbs
Parsley (optional)
---
Directions
1) Gather your team together. Here's mine. (The sausages are from last year's farm pigs. Thanks Oreo and/or Hydrox!)
---
2) In a skillet, fry sausages until browned.
---
3) Add onion and garlic and cook everything until tender, about 4 minutes.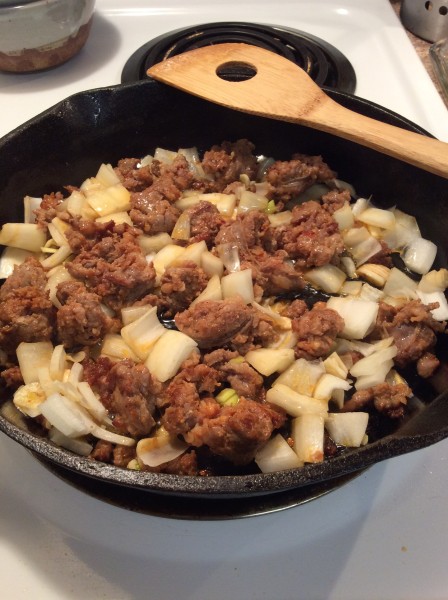 ---
4) Add thyme, broth, beans, diced tomatoes and tomato paste. Simmer until liquid is reduced a bit, about 10 minutes.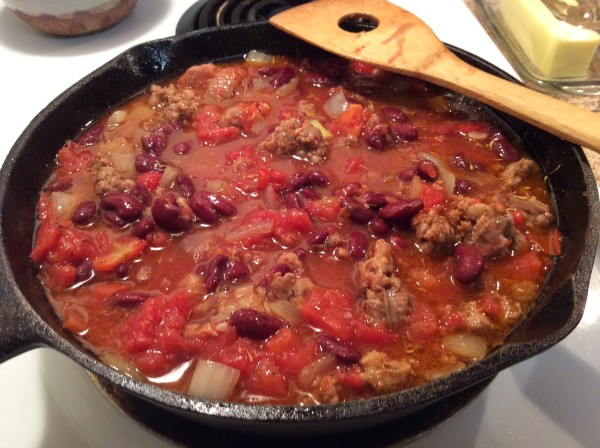 ---
5) Sprinkle breadcrumbs (and the parsley, if you're using that) over the top of the dish.
---
6) Place skillet under broiler until bread crumbs are browned, about 1-2 minutes. And you're done!