This recipe comes from Tinicum CSA member Kim Malina. Thanks Kim for such a delicious way to prepare Bok Choy! I made some yesterday and it was great. I highly recommend trying it.
Salad Ingredients (serves 4)
1 large Bok Choy, rinsed and thinly sliced (including leafy greens)
½ cup shredded carrot
1 tablespoon toasted sesame seeds, for garnish
Preparation
Place sliced Bok Choy and carrot into a large bowl and into refrigerator while vinaigrette is prepared.
Sesame-Soy Vinaigrette Ingredients
1 clove fresh garlic, pressed through garlic press
2 teaspoons toasted sesame seeds
1 tablespoon honey
1 tablespoon low-sodium soy sauce
3 tablespoons rice wine vinegar
1 tablespoon toasted sesame oil
3 tablespoons vegetable oil
Preparation
In a small bowl, add all of the vinaigrette ingredients and whisk together until well combined.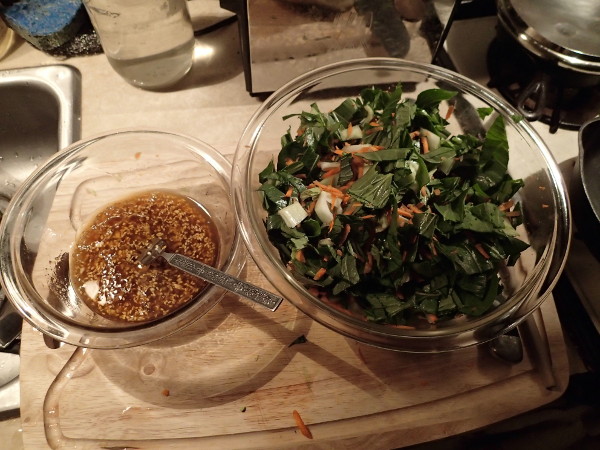 Pour the vinaigrette over the Bok Choy greens and carrot, toss together well to coat, and divide equally among plates, piling the greens high; sprinkle with about a teaspoon of the sesame seeds to garnish.