Hello again, Food Fans!
This is our online recipe catalog's 100th recipe, and it comes to us from CSA member Ramona K. Clearly, I'm posting it a little out of season, but this is a great summer recipe showcasing those solanaceous family superstars: eggplant, tomato, and bell peppers.
Ramona says: I got this recipe from Loretta M. She told me that she often served it with pasta as a main course. When I made the caponata to take to her in the hospital, I put it over penne but I think it would be good any pasta or over rice. When Loretta used the caponata as an appetizer, she served it with slices of toasted baguette.
Makes about 4 servings.
Ingredients
1 1/2 lbs eggplant (about 1 large)
2 tablespoons extra virgin olive oil
1 medium onion
2 stalks of celery
3 cloves of garlic, minced
2 red bell peppers (Stefan says: I used one red and one orange.)
1 lb ripe tomatoes (Ramona says: or one 14 oz can of whole tomatoes, crushed by hand) (Stefan says: I used a can of diced tomatoes)
3 tablespoons capers, drained
3 tablespoons olives, chopped (Ramona says: I prefer to slice them and generally use those with pimentos…they look better. I have been known to use black olives or any combination of olives I have on hand.)
2 tablespoons sugar (Stefan says: I didn't use any sugar.)
3 tablespoons red wine vinegar
salt and pepper to taste (Stefan says: I didn't add any salt.)
---
Preparation
1. Heat your pot and add the oil.
2. Add garlic and sauté for 1 minute. (Stefan says: From this point until the end, you'll want to stir everything every couple minutes. There is a chance of your material sticking to the pot.)

---
3. Add onion and celery and sauté for 5 minutes.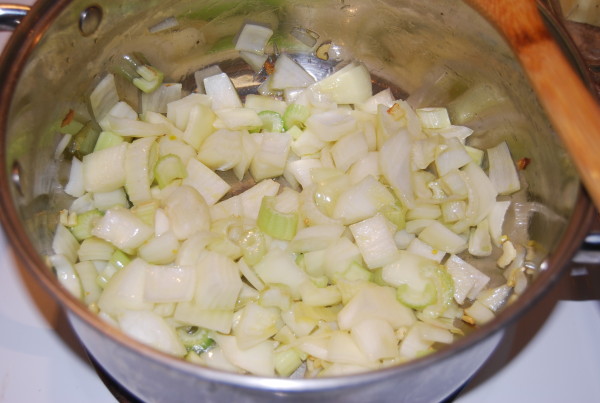 ---
4. Add peppers and sauté for 8 minutes more.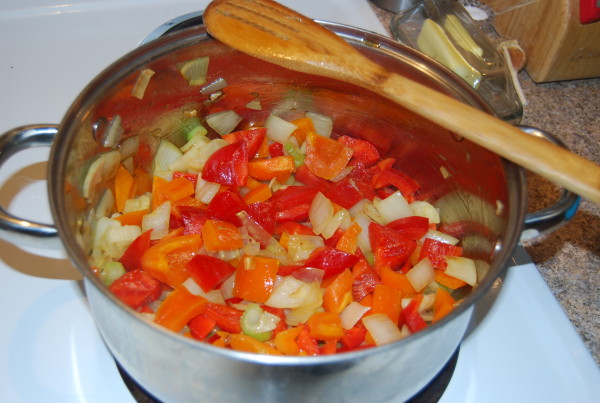 ---
5. Add eggplant and sauté for 5 minutes.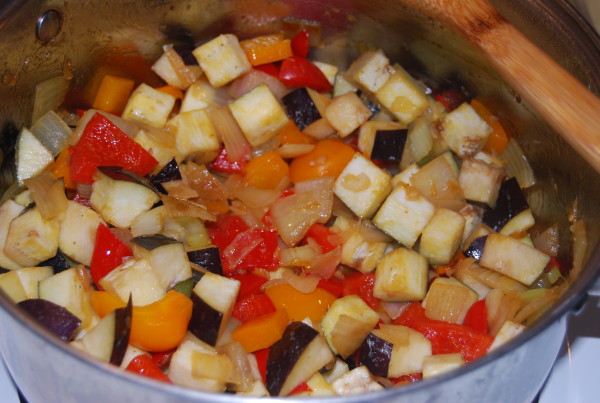 ---
6. And tomatoes and sugar. Sauté for 10 minutes.

---
7. Add capers, olives, and vinegar. Simmer for 20-30 minutes. (Stefan says: Here's what mine looked like after 20 minutes.)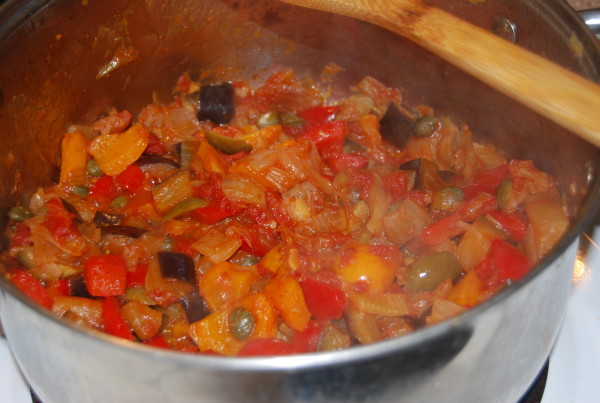 ---
8. Salt and pepper to taste. And serve! Goes well over pasta. In the photo at the top of the page, this caponata is pictured over a bed of pasta, topped with some fake chicken.