This recipe is a quick 'n' simple way to turn a pint jar of pumpkin butter into a crowd-pleasing pumpkin pie. We found the recipe here from Mother Earth News.
Ingredients
1 pie crust (mine was store-bought, sadly. John's the one in charge of pie crusts. Perhaps he'll publish his method someday…)
1 pint jar of pumpkin butter (see our recipe here)
2 Tablespoons honey
1 cup of milk
2 eggs
1 teaspoon of cinnamon
1/2 teaspoon of ground cloves
Preparation
Mix everything together in a big bowl (except the crust, obviously). Your pie guts might look a little something like this photo below. Don't worry if the mixture seems too runny; that's normal.
---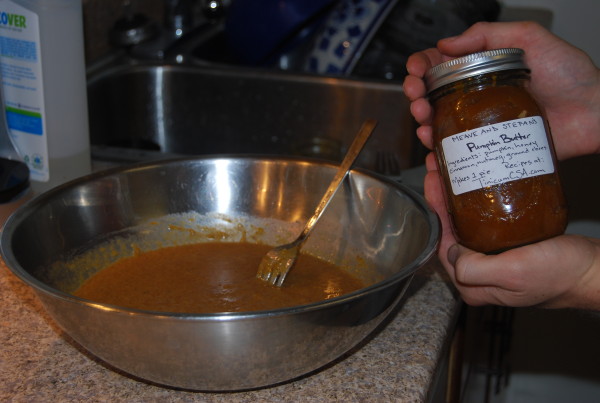 ---
Then pour the mixture into your unbaked pie crust, and bake it in a 350°F oven until the pie sets (about 65 minutes). If, after 65 minutes, you aren't sure whether your pie has set, jiggle it back and forth gently to see if the center is still liquid.
Serve with some whipped cream! If you want.