This recipe is a tool for those times when you have a bunch of daikon, and you just want to use it up. I know I have those times sometimes…
The first version of the recipe is extremely basic — just tossing the daikon with some oil, roasting it, and sprinkling it with salt and pepper. The flavor is fine this way, but you can make things more interesting by adding the optional peanut-miso sauce. (Just for the record, I'll mention here that the peanut-miso sauce is also really great on steamed green beans.)
Here's how it works:
Ingredients
one medium and one large daikon*
3 T sesame oil
salt and pepper to taste
toasted sesame seeds, optional
*Really, you could use any amount of daikon for this recipe. It all depends on how many servings you want and how big a baking dish you have.
Optional Peanut-Miso Sauce:
2 T miso
2 T peanut butter
Preparation
1) Preheat your oven to 350 degrees Fahrenheit.
2) Chop your daikon. I like quarter-round shapes, like this:
---
3) Spread the chopped daikon in a single layer in a baking dish or on a cookie sheet. Drizzle some oil over top of it and sprinkle with salt and pepper. Toss everything so that the oil just coats the daikon. Here's a look before the oil, salt, and pepper:
---
4) Bake for about 35 minutes at 350 degrees. …'til it looks like this: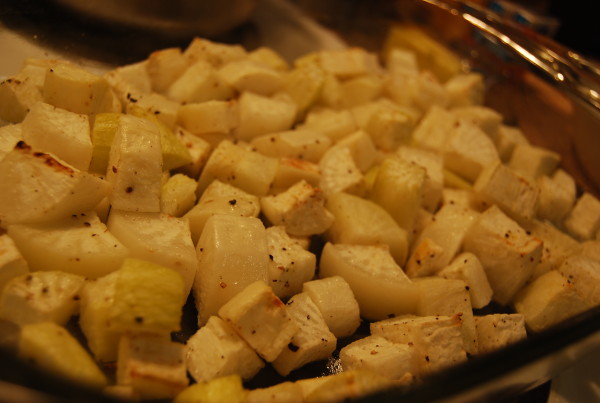 ---
5) If you're using the peanut-miso sauce, you can mix that up while the daikon is in the oven. Just mix together equal parts miso and peanut butter. (I use a fork to mix it.)
6) When the daikon comes out of the oven, toss it thoroughly with the sauce, so that that the sauce coats it evenly. If you like, sprinkle toasted sesame seeds over everything. You're ready to serve!
The featured image at the top of this post shows the final product both ways — with and without the sauce — served on the side of a roasted carnival squash stuffed with quinoa.