Here's a little thing I came up with a few days ago. If you still have a fennel in your refrigerator, this is an easy & seasonal meal for 2 or 3 people. It only takes a few minutes to set up, and these early freezing nights can make a person want to turn the oven on in the evening…
Check it out:
Ingredients
about 12 oz of sausage — I used "apple & chardonnay" chicken sausages
1 bulb of fennel
1 apple
about 1 cup of apple cider
---
Directions
1) Preheat oven to 375 degrees F.
2) Cut the stalks off your fennel just below the first frilly fronds. Put the fronds aside to be used later for salad or what-have-you.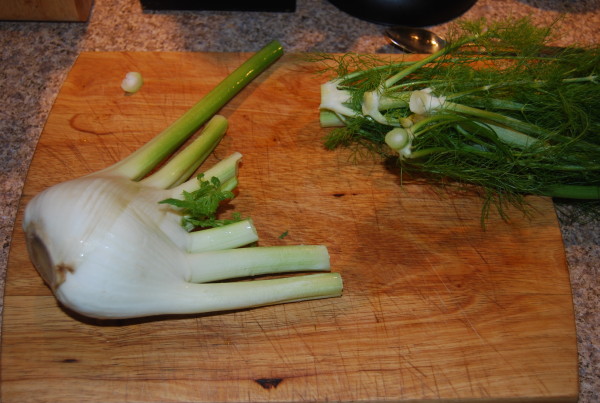 ---
3) Place your sausages in a baking dish or skillet.
4) Chop up the fennel bulb and your apple. Cover the sausages with the chopped chunks of fennel and apple.
---
5) Pour apple cider over everything until the cider is about half an inch deep. In my case, this was just over a cup of cider. Bake everything about 35 minutes, or until some of the pieces sticking up out of the cider bath begin to brown.
Voilà!