This recipe comes from Tinicum CSA members Nathan & Erica C. They had me over for a farmer-to-your-table dinner and served this delicious squash. If you still have some carnival squash decorating your kitchen try this out.
Ingredients
2 carnival squash
1 pound ground sausage
1/2 cup chopped onion
1 egg
2 tablespoons milk
1 cup spinach, finely choppped
1 1/2 cups bread crumbs
1/2 cup dried cranberries
Preparation
1. Halve the carnival squash and remove the seeds. Place squash cut side down in a baking dish. Add about a half inch of water, cover with aluminum foil, and bake for 30 minutes at 400 F. When done you should be able to pierce the squash with a fork.
2. While the squash is baking, in a large skillet brown the sausage, and add onion. Cook until the meat is no longer pink. In a large bowl, beat egg and milk. Stir in the spinach, bread crumbs, cranberries and sausage mixture.
3. Once the squash is done, remove from the oven and flip them cut side up. Stuff with sausage mixture and bake covered for 30 minutes at 350. Then eat!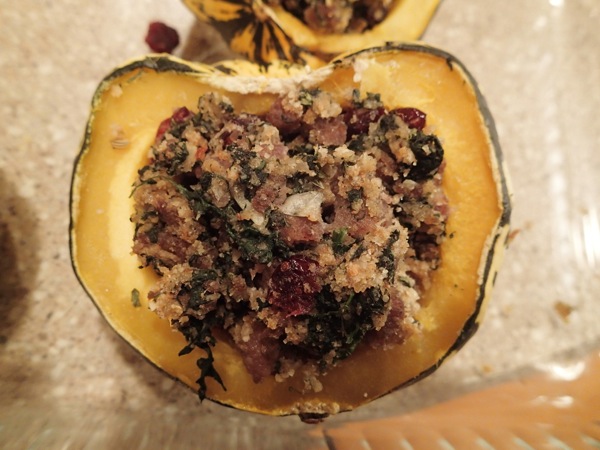 Note: This recipe is based on another recipe from Taste of Home.
Another note: Feel free to try all sorts of variations on this one. One could easily use a different kind of meat or make it vegetarian.