Though the farm is covered in snow I've been hungry for spring greens. I recently bought some broccoli raab from the grocery store so I could do some pre-season practice cooking. I can't wait to cook our own broccoli raab that's due for harvest in May. Here's to looking forward to Tinicum CSA's 2014 season! Enjoy.
Ingredients
1lb broccoli raab, chopped
1lb pasta (whatever shape you like)
1/2 cup olive oil
5 cloves of garlic, minced (could be replaced with 2 garlic scapes, finely chopped)
1/2tsp. crushed red pepper (or more)
1tsp. sea salt
3/4 cup of grated parmesan & cheddar
Freshly ground black pepper
Preparation
1. Rinse the Broccoli Raab.
2. In a large pot begin to boil water.
3. Cut away the the end stems of the broccoli raab. (optional, most of the stems are tender enough to eat)
4. Chop the broccoli raab and set aside.
5. In a small bowl, combine 1/2 cup of olive oil, minced garlic, crushed red pepper, and salt. Since I didn't have any crushed red pepper on hand, I used a 1/4 tsp of cayenne pepper.
6. Once the water is boiling, add your pasta.
7. In the last 5 minutes of cooking the pasta, stir in your chopped broccoli raab. Don't worry it'll cook down. Remember not to over cook the broccoli raab. I had it cooking for about 2 minutes instead of 5.
8. In a small frying pan, warm the olive oil garlic mixture and lightly cook until the garlic is brown.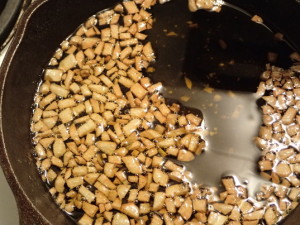 9. Drain the pasta and broccoli raab and return to the cooking pot or a serving dish. Pour the garlic olive oil over the pasta and mix with a wooden spoon. Sprinkle with grated parmesan. I used some cheddar as well. Grind the black pepper over all and you're ready to eat!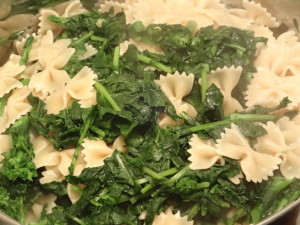 Note: This recipe comes from the Smitten Kitchen here.