Our first guest-chef contribution! This elegant tart was created for us right here on the farm by the esteemed Ashley Snow-Robbins. Ashley certainly knows her way around a kitchen — even if it's a Coachmen camper's miniature kitchen — and we were very grateful to dig into this sumptuous delight!
This tart presented a satisfying briny richness, coming from the feta cheese and the olives. It's based on a recipe from EatingWell.com, which you can find here.
Makes about 8 servings and takes about 2 hours total to prepare.
INGREDIENTS
CRUST
3/4 cup whole-wheat pastry flour
3/4 cup all-purpose flour
1 1/2 tablespoons chopped fresh thyme, or oregano
3/4 teaspoon salt
3/4 teaspoon freshly ground pepper
1/3 cup extra-virgin olive oil
5 tablespoons cold water
FILLING
2 teaspoons extra-virgin olive oil
3 cups chopped baby kale*
3 cups chopped spinach*
2 tablespoons minced garlic
2 tablespoons water
2 large eggs
1 cup part-skim ricotta cheese
1 teaspoon freshly grated lemon zest
1/8 teaspoon freshly ground pepper
1/2 cup chopped pitted kalamata olives
1/3 cup crumbled feta cheese
*The original recipe called for 6 cups of chard, rather than spinach and kale. If you use chard, separate the stems from the leaves, and add the stems to the saute pan for a bit before you saute the garlic.
PREPARATION
1) To prepare crust: Combine whole-wheat flour, all-purpose flour, thyme (or oregano), salt and 3/4 teaspoon pepper in a bowl. Make a well in the center and add 1/3 cup oil and 5 tablespoons water.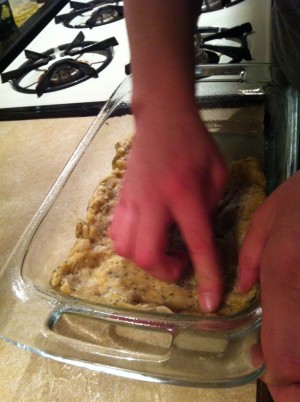 2) Gradually stir the wet ingredients into the dry to form a soft dough. Knead on a lightly floured surface until the dough comes together. Wrap in plastic and chill for 15 minutes.
3) Preheat oven to 400ºF. Coat your baking dish with cooking spray.
4) Roll the dough into a 12-inch circle on a lightly floured surface. Transfer to the prepared pan and press into the bottom and up the sides. Trim any overhanging dough and use it to patch any spots that don't come all the way up the sides. Prick the bottom and sides with a fork in a few places. Bake the crust until firm and lightly brown, 20 to 22 minutes. Let cool on a wire rack for at least 10 minutes.
---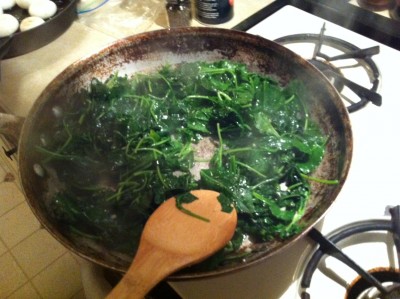 5) To prepare filling: Meanwhile, heat 2 teaspoons oil in a large skillet over medium heat. Add garlic and cook, stirring, until fragrant, about 15 seconds. Add kale and spinach and 2 tablespoons water and cook, stirring, until the leaves are just tender and the water has evaporated, 2 to 5 minutes. Transfer the greens to a sieve over a bowl and let drain and cool for 5 minutes.
---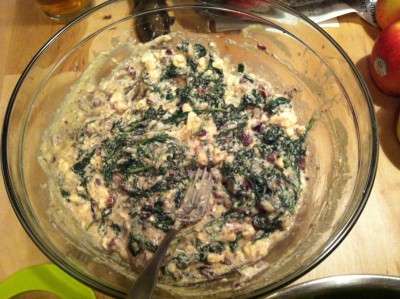 6) Whisk eggs, ricotta, lemon zest and 1/8 teaspoon pepper in a large bowl. Fold in the greens, olives and feta. Pour the filling into the crust. Bake the tart until the top is lightly browned and a knife inserted in the center comes out clean, 30 to 35 minutes. Let cool for 10 minutes before cutting.