Chile vs. Brazil has just gone into overtime, and I've just finished thoroughly enjoying two big slices of this delicious spinach pie from CSA member Jennifer H.
Easy to prepare and a real crowd-pleaser, this is a great recipe to have on the books. Also an easy recipe to customize: swiss chard or kale could be swapped for the spinach. I'm sure some broccoli could be slipped in there as well.
Here's how it works:
Ingredients
3 – 5 lbs of onions
1 lb fresh spinach
1 lb (or more) feta cheese
15 Oz ricotta cheese
10 eggs
pinch of pepper
pinch of salt
cooking oil (perhaps 2 Tblsp)
---
Preparation
1) Chop the onions and caramelize them on very low heat with a shot of vegetable oil, a pinch of salt, and a pinch of pepper.
---
2) While the onions are caramelizing, combine the remaining ingredients in a large bowl. Mix them by hand until fully combined.
---
3) Add the cooled onions and combine.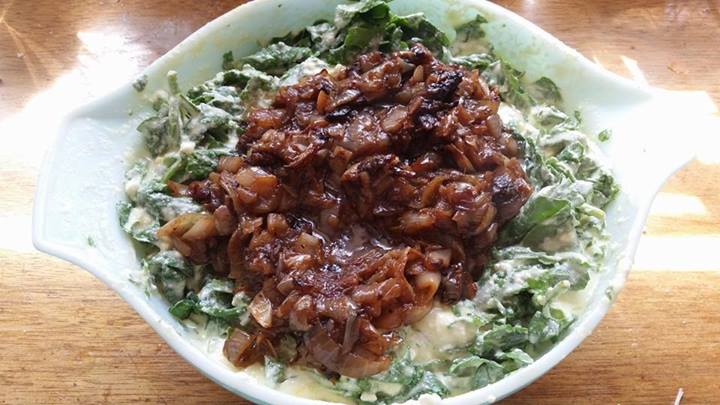 ---
4) Transfer everything to a large casserole dish and bake at 350 degrees Fahrenheit until brown. (Here it is before going into the oven:)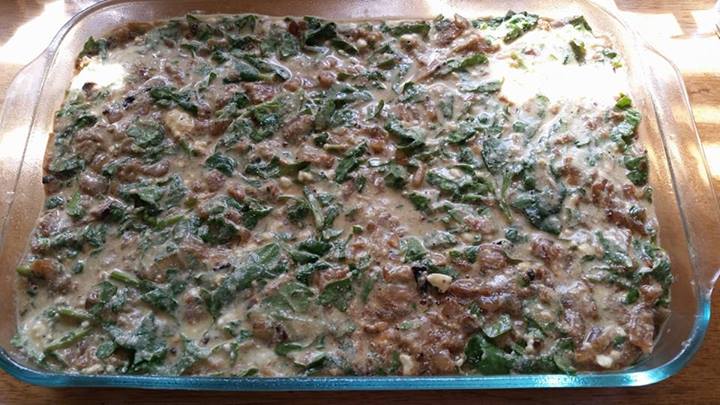 EAT AND BE HAPPY!!!!
Also good in a pie crust or made into philo dough triangles…….