It seems like anything covered in cheese sauce is delicious and broccoli & cauliflower are no exception. Enjoy!
Ingredients
1 cauliflower crown, chopped
1 broccoli crown, chopped
3 tbsp. butter
2 tbsp. flour
1 cup cheddar cheese, grated
1 cup milk
1 or 2 scallions (and/or garlic scapes), chopped
Salt & Pepper
Preparation
1. I start by making the cheese sauce first. Grate the cheddar cheese and set it next to your stovetop. Put your milk next to the stovetop as well. You'll be stirring constantly so you'll need to have the cheese and milk within arms reach.

2. In a sauce pan begin melting butter on low heat. Add flour and stir until it begins to bubble. Keep stirring.

3. Add in small handfuls of grated cheese. Continue stirring and as it melts, add in the milk 1 tablespoon at a time. Continue this process little by little. The trick for making a thicker sauce is to let the cheese melt each time before adding more. If you want more sauce, use more cheese and milk. The sauce should be ready in about 15 or twenty minutes. Turn off heat.
4. In a small frying pan, sauté the scallions & garlic scapes.
5. Add the scallions & garlic scapes to the cheese sauce and salt & pepper to taste.

6. In another sauce pan, steam the chopped cauliflower & broccoli. Do this for just a few minutes, until the broccoli is bright green. I like to keep it crunchy.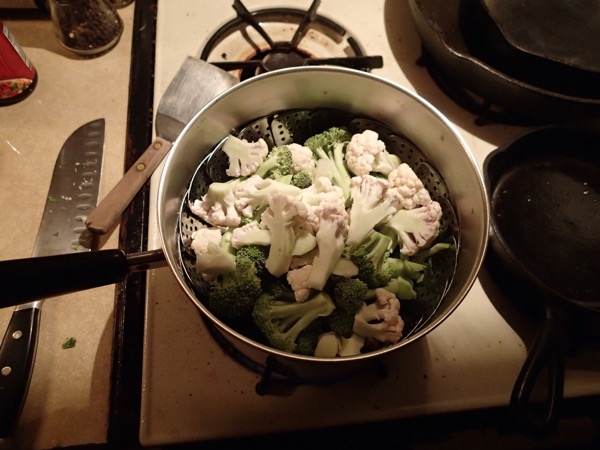 7. Cover the steamed cauliflower & broccoli with cheese sauce and devour!