Spices, coconut milk, and vegetables are delicious. Especially when it's time to make a vegetable curry. This one may be adapted to fit the taste preferences of your household. It's probably really good for you too because it's full of vitamin & mineral rich vegetables. Plus, it tastes great! So all around, it's a winner.
Ingredients
1 tsp. whole cumin seed (or 1/2 tsp. ground)
1 tsp. whole mustard seed
1/4 tsp. asafoetida powder
2 tbsp. olive oil
1 onion, finely chopped
1 garlic clove, chopped
1 tomato, chopped (or several dehydrated tomatoes)
2 potatoes, chopped into bite size pieces
1 large carrot, chopped
1 butternut squash or small pumpkin, baked
1 can of coconut milk
A handful of kale
1 broccoli crown, chopped
1 cauliflower crown, chopped
2 tsp. tumeric
2 tsp. garam masala
1/2 tsp. cayenne powder (or less if you don't want it to be too spicy)
1/2 tsp. salt
Preparation
1. Cut your butternut squash or pumpkin in half, remove the seeds, put face down in a baking pan with about 1/2 inch of water and bake covered at 400F for 40 minutes. It's done when you can easily pierce the skin with a fork. Set aside.
2. In a large frying pan, pour in the olive oil and heat up the whole cumin seed, mustard seed, and asafoetida.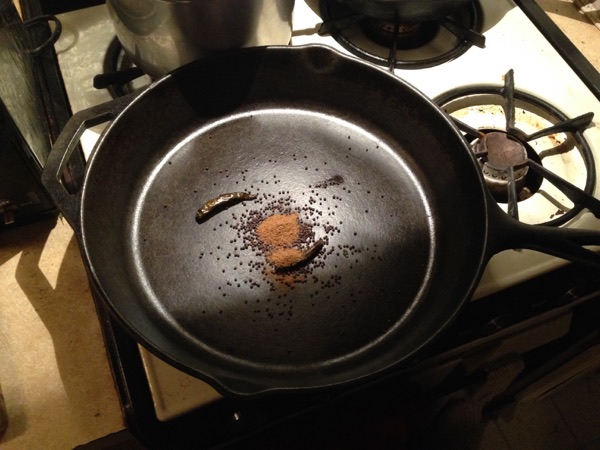 3. After about a minute, when the cumin starts to crackle and pop toss in the chopped onion & garlic. Reduce the heat and cook until the onion begins to brown, about 8 minutes. Then add the chopped tomato and continue sautéing for another 8 minutes or so. I used dehydrated tomatoes this time and it was really good.
4. Add the potatoes and carrots and sauté.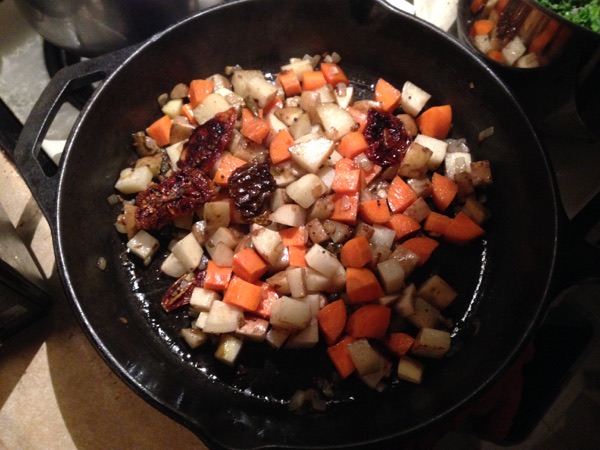 5. Meanwhile, pour the coconut milk into large pot. Add in the kale, broccoli, and cauliflower and begin simmering on low heat. Scoop the butternut squash or pumpkin into the pot and stir it together as it simmers.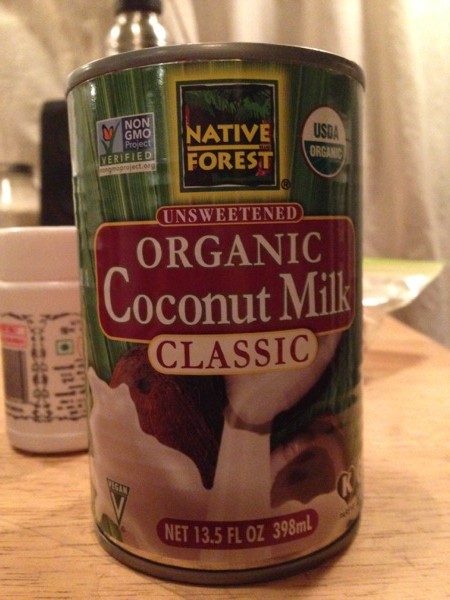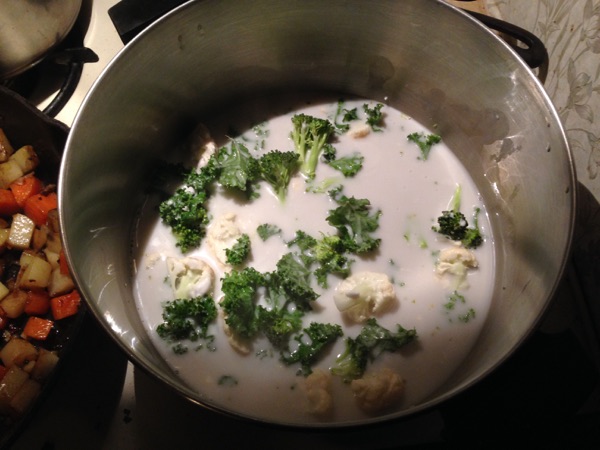 At this point you'll really be multitasking on the stovetop. By now you may want to turn off the heat on the frying pan side. Just be sure that the carrots and potatoes are fully cooked. Check by eating some.
6. After about 10 or 15 minutes of simmering the vegetables in the coconut milk, add the contents of the frying.
7. Stir in the tumeric, garam masala, cayenne powder, and salt. Stir the whole thing until it is well mixed. Turn off the heat and serve.
Note: You can do variations on this recipe and still achieve the same purpose of eating delicious coconut milk infused vegetable curry. Feel free to change up the combination of vegetables and use whatever seems good to you. For example, use a baked sweet potato instead of a butternut squash. When I made this, I first made a pumpkin pie and the next day I used the leftover pumpkin puree for the curry. In fact it was the leftover pumpkin puree that got me thinking about coconut milk, then eventually the other ingredients came to mind, and finally I realized I'd made a curry. The spices I used are similar to the ones used in my former Sweet Potato Dal recipe.